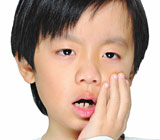 It's 3:00 PM, your child has just come back from the school playground — and she's complaining of a toothache that's making her miserable. She can't seem to say if there was a particular injury or a blow, but the more she talks about it, the worse it gets. You're the parent... what are you going to do now?
If you've ever been through this type of situation, you know that a calm demeanor and a little TLC can go a long way. But how do you know whether you're facing a dental emergency, or a routine booboo? Here are a few general rules that may help.
First, relax: Without a fever and facial swelling, a child's toothache isn't usually an emergency. But any tooth pain that keeps a child up at night or lasts into the next day should be evaluated by a dentist. Even if it's nothing but a small cavity (the most common cause of toothache) you don't want to let it go untreated. That could allow it to turn from a small discomfort into a major problem — like a painful abscess.
There are some things you can do at home to try and get a handle on what's causing the pain. Encourage the child to show you exactly where the pain is located, and to tell you when and how it started. Then, examine the area closely. Look for obvious brown spots, or even tiny cavities (holes) on biting surfaces or between teeth, which might indicate decay. Also check the gums surrounding the tooth, to see if there are sores or swelling.
You may find evidence of a traumatic injury, like a cut or bruise — or, if only swelling is apparent, it may mean an abscess has formed. If nothing looks amiss, try gently flossing on either side of the hurting tooth. This may dislodge a particle of food that's causing pain and pressure.
If the pain persists, you can try giving an appropriate dose of ibuprofen or acetaminophen, or applying an ice pack on the outside of the jaw — one minute on and one minute off. But even if you can make the immediate pain go away, don't neglect the situation that caused it. Unless you're absolutely sure you know why the toothache occurred, you should bring the child in for an examination. It will put your mind at rest — and maybe prevent a bigger problem down the road.
If you have questions about toothaches in children, please contact us or schedule an appointment for a consultation. You can learn more in the Dear Doctor magazine article "A Child's Toothache."